This is Vegan...what?!
So this week, something has been going on with my tummy. Well actually I've been feeling like I need to decrease the amount of meat consumption in my eating rhythm. Sometimes as we get older our bodies can go through some changes and it is up to us to listen to see what it needs.
I've added extra veggies and have slowly been eating less meat for the last month or so. Well, its been 4 days and I have been eating a completely plant based/vegan lifestyle. I am not sure how long I will be doing this, but until my body feels closer to 100% ,I am going to continue.
I was Vegan Before
Years ago I went vegan due to gall bladder issues and I felt great for a short period of time. But there are so many things looking back that I could have done a little differently.
I will share more about this in the upcoming weeks. Since I didn't have a "taste" for meat a few days ago, I decided to leave the taco meat out and prepare a plant based dip. This layered vegan dip is now on my "hot" list of Mexican food that I will be consuming pretty often.
The combination of flavors is so yum. This is a recipe I made 'On the Fly'. For the most part I am super excited to share this with you. A little side note, though, I am still working on the vegan sour cream.
Oh, and if you are not vegan or don't eat mostly plant based whole foods, you can add some taco meat, after the salsa. Make it your own... there is no shame, do what makes your body feel fabulous! Enjoy!
Feeds 8 to 10 foodies...may need an extra bag of chips...just saying!
Ingredients:
2 Cups Re fried Beans
2 Green Bell Peppers, diced
1/2 Red Onion, chopped
1 16 oz Jar of Salsa
2 Large Avocados
Bean Chips
Favorite Dairy Free Sour Cream, for garnish*
~Re fried Beans:
2 cups Pinto Beans, cooked
3 tsp Salsa
1/2 tsp Himalayan Sea Salt
1/4 tsp Chipotle seasoning
1 tsp of each
Cilantro
Cumin
Chili powder
1/4 tsp Chipotle seasoning
Method for Re fried Beans:
Mash re fried beans in a bowl until broken down.
Add salsa and mix until blended.  Add salt, chipotle, cilantro, cumin, and chili power and mix well.
~Guacamole:
2 Large Avocados
1 tsp of each
Salsa
Lemon Juice
Cumin
Cilantro
Himalayan Sea Salt to taste
Method for Guacamole:
Remove avocado pits and mash avocados in a bowl. Add the rest of the ingredients and mix until blended.
~Vegan Sour Cream:*
You can purchase your favorite vegan sour cream or create your own. I attempted to make my own, in which I am still working on it. If you want to take a shot at it, I will share the ingredients I used. Please feel free to leave a comment  and share your additions and critiques.
Handful of Cashews
1 tsp Lemon Juice
3 tsp Coconut Oil
1/2 cup of water...add more as needed
Salt to taste
Method for Vegan Sour Cream:
Add all of the ingredients to the Vitamix or power blender and blend it up. The texture was more of a creamy sauce than a sour cream. This is not the final recipe....I'm still working on this so just keep that in mind:)
Method for Layered Mexican Dip:
Layer the ingredients in this order in a 13x9 glass pan: re fried beans, diced peppers, chopped onions, remaining jar of salsa (drain some of the liquid out), and guacamole. Top the guacamole with crushed bean chips. Drizzle the homemade vegan "sour cream" or top with your favorite.
Use the remaining bean chips for dipping. Refrigerate if there is some left!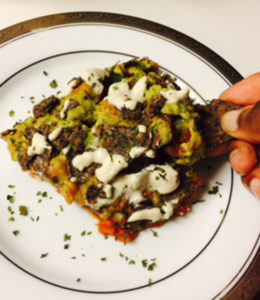 Enjoy!
P.S. Things to do next time: drain the liquid out of the salsa and leave out the onions for my son...well make 2 dips! Also, he doesn't like bell peppers, would rather have colored sweet peppers. (Sigh) There's always a buffet at my house.
Hicunni Chandler, Certified Mind Body Eating Coach & Food Strategist
HEALTH DISCLAIMER:
Certified Eating Psychology & Mind Body Nutrition Coaching is not intended to treat, cure, or prevent any disease or illness. The information provided on this website, one-site and virtual coaching sessions, workshops, programs, classes, podcasts, and products is intended for educational purposes only, not as medical advice. Always check with your health care provider, practitioner, or doctor before changing your diet, eating or health/care program.